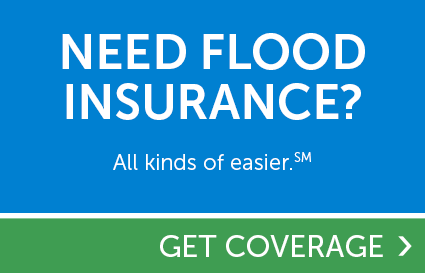 Flooding is one peril not covered by standard commercial property insurance. While supplemental coverage is optional, flooding can occur anywhere in the United States. As such, flood insurance can be a smart investment for any business owner looking to anticipate potential risks.
One of the most common and costly natural disasters, flooding can be the result of occurrences like heavy rain, a broken levee or dam, coastal storms or a sewer backup.
Protect your commercial property and business equipment from the detrimental effects of flooding with a policy issued by the National Flood Insurance Program (NFIP).
About Flood Risk
The NFIP defines a flood as "a general or temporary condition where two or more acres of normally dry land or two or more properties are inundated by water". Without insurance, one inch of water could lead to over $25,000 in out-of-pocket expenses.
Due to this catastrophic risk, businesses located in high-risk flood areas or with a mortgage from a federally-regulated or insured lender are required to carry flood insurance.
What Does Flood Insurance Cover?
For businessowners, flood insurance covers direct physical losses to your commercial building and its contents. The following are protected from subsequent damage:
Foundation
Electrical
Plumbing
Equipment
Furniture
Inventory
Furnaces
Water heaters
Built-in appliances
Permanently installed carpeting
Permanently installed cabinets, paneling, bookcases
Window blinds
Fuel tanks
Well water tanks and pumps
Solar energy equipment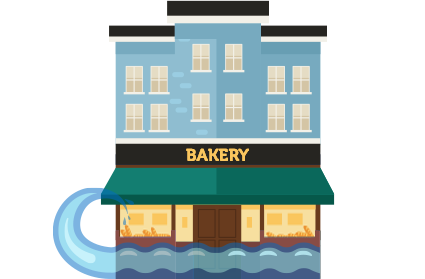 What's Not Covered by Flood Insurance?
If your commercial building has a basement, coverage is limited. The policy also does not extend to business interruption or loss of use of the insured property due to flooding.
Flood Insurance for Renters
If you rent commercial space, the landlord should have flood coverage. Your own business policy can protect company items like furniture, inventory, equipment and electronics.
The cost of damage from rising floodwaters could devastate a business. Protect your livelihood with affordable commercial flood insurance coverage! To discuss discounts for low-risk areas, work with a HUB/Ion Insurance agent today.