Ion Insurance offers powerful tools and market resources to help transportation company owners creatively safeguard their delivery businesses.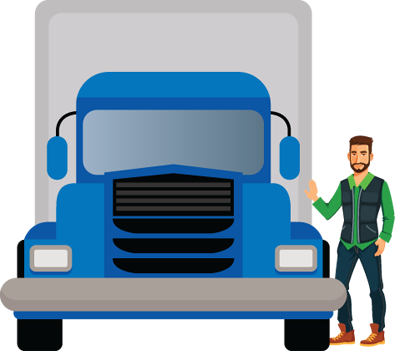 Nearly 15 million Americans work in transportation and transportation-related industries – that's over 10 percent of the U.S. workforce! Whether you are one of more than 3.5 million commercial truck drivers certified with a CDL or drive an Amazon van around local neighborhoods, you play a major role in the delivery of goods and services.
For commercial trucking and other transportation business owners, it's important to have adequate insurance coverage for all facets of your operation. Have you thought about the potential risks that face your delivery company and its employees?
Transportation Coverage
HUB International is one of the largest transportation insurance specialty brokerages in the country. Customized commercial trucking insurance solutions, national coverage, local operations and dedicated people are what set HUB Transportation apart. We have the right combination of experience, expertise and dedicated service to help you obtain the right insurance protection at the right cost.
CONTACT US TODAY
for a transportation insurance quote!
Insurance Expertise
Options and expertise that simple. Due to our size we possess market clout which enables us to work directly with many leading insurance carriers to provide you with a range of coverage options and solutions for your business. These relationships allow us to negotiate the best combination of price and value on your behalf.
Key Benefits of Our Coverage
A unique product & experienced staff to manage it, including:

Auto Liability and Physical Damage
General Liability
Umbrella Liability
Spill & Pollution Liability
Cargo Insurance
Workers Compensation

Expertise and reach across the United States
Customized insurance programs
Access to top transportation insurance programs and carriers
Business education videos on how to permit and license your business, manage crews and make on time and safe deliveries
Immediate certificate and ID card issuance, utilizing our customized portal and mobile app
Contract compliance review
24-hour claims reporting
Licensed risk managers to assist you with your CSA scores and driver training
If you qualify, additional trucking insurance coverages may be available to you:
Truckers Loss of Income
Trucker Rental Reimbursement Coverage
We also offer the MCS-90 endorsement that can be added to your business's auto liability policy. When you are a Motor Carrier for Hire, the MCS-90 endorsement ensures that federally mandated coverage is in place for bodily injury, property damage, environmental restoration, etc. – in the event of an accident
Safety Management & Business Services
The Hub Risk Services team delivers a wide range of solutions for last mile delivery companies that specifically address the driver training process, compliance with federal & state permitting requirements while using our market clout with vendors to provide discounted safety services to our clients. Our business service team provides support in filing for necessary permits and licensing your company requires to start and manage your delivery business.
Putting You On the Road to Success
We view ourselves as your insurance partner and advisor. Our primary mission is to help make your delivery company a safer motor carrier in order to maximize your savings in insurance costs, improve shipping relations and incur fewer losses and injuries. To have your insurance program keep up with your needs, we actively stay in contact throughout the year to assess any changes in operations that might affect coverage. We then provide counsel to aid in a clean, easy to understand renewal process.
Our experts are committed to providing you with the finest insurance products and services available. We take pride in serving your coverage needs with integrity in all aspects of our business. Contact a HUB/Ion Insurance Transportation Specialist to help build a comprehensive strategy for your business.
CONTACT US TODAY
for a transportation insurance quote!
HUB International content provided by Zywave Insurance Solutions