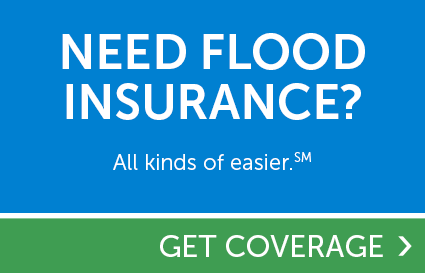 Did you know flooding is not covered by most standard home insurance policies? Protect your property and belongings from the detrimental effects of flood waters with coverage backed by the federal government.
Ion Insurance offers affordable and comprehensive policies issued from the National Flood Insurance Program (NFIP) for property owners living in low to high-risk flood zones.
About Flood Risk
The NFIP defines a flood as "a general or temporary condition where two or more acres of normally dry land or two or more properties are inundated by water". This can occur as a result of spring thawing, heavy rain, coastal storms and other weather phenomena.
Flooding can happen anywhere in the United States – even historically dry areas. In fact, 25 percent of claims reported to the NFIP occur outside of high risk flood zones! Without insurance, one inch of water could lead to out-of-pocket expenses totaling over $25,000.
What Does Flood Insurance Cover?
Flood insurance covers direct physical losses to a building and its contents. Two coverages, Building Property and Personal Property, are recommended for full protection. Building Property covers structure, including the foundation, systems and appliances that service the residence, while Personal Property includes items like clothing, furniture and electronics.
Keep in mind, not everything in the home or on the property is covered by flood insurance.
What's Not Covered by Flood Insurance?
Property outside of an insured building, such as decks and patios, fences, sheds and hot tubs are not covered by flood insurance. Basement coverage is also limited to items connected to a power source, like the water heater, washer and dryer. Improvements and personal property kept below ground level are not insured from flood damage.
Flood Insurance for Renters
Renters can also protect their belongings from rising waters with an NFIP flood insurance policy. Personal items, including furniture, clothes, electronics and artwork are covered. Confirm with your landlord that the building is insured against flood damage.
Why wait for the next disaster? Flood insurance is available in your area at an affordable rate. Discounts may be applicable in low-risk areas. To discuss the details of this crucial coverage, work with a HUB/Ion Insurance agent today.